So I was feeling pretty depressed and loser-ish yesterday, about the fact that no one seemed interested in my
awesome giveaway
, among other things.
MiMi
tried to console me by trying to convince me it was because of the holiday, and not a reflection on my level of lameness. Hmmmf.
I then went downstairs to the dungeon (AKA my unfinished basement) to put something away. MiMi has mentioned how she wishes her craft area weren't in the garage - but it's sorta like having it be in a dungeon. Yep that's where the magic happens at my house. A room in a dungeon with a table and a desk.
I looked around my room and saw the disaster it had become. You see, Cowgirl had decided that finished or unfinished, she was done sharing a room with her sisters. After Christmas she moved all her stuff down to a room in the dungeon, we put a bed and dresser down there, and hung some sheets for walls (yes we are white trash extraordinaire), and that is her room. Only it HAD been the room that I had been storing all my
Ribbon Blossoms
materials in. It had already become somewhat scattered as I brought stuff from her room into my workroom to make stuff, and also upstairs sometimes. Then I'd just move it to the side and bring new stuff out to work on. Then I'd just pile it all up to try and get it out of the way. When I had to clear my crap out of Cowgirl's space, I stacked and piled it all up in my dungeon craft room. Here's the result:
Don't you judge me.
Yesterday, while looking around and feeling pathetic, I decided to do something about it. Do you know what it's like to be as disorganized as I am and be IRL besties with someone like
Tanielle
? And have bloggy friends like
Shawn
and
Vivienne
? All organized, all immaculate in their house-keeping. I mean I know I haven't ever been to Shawn's or Viv's houses - but I've seen pictures! And I know they are clean and orderly.
I rolled up my sleeves and got to work. I had crap piled all over the floor, all over my work table, the bookshelf, and the desk I bought years ago to turn that little corner space into an office area. Then our computer died and we only have our laptop - so the space sits collecting dust and other crap that I pile onto it.
I sorted all my bow and tutu-making supplies into their respective bins. I have some boxes of craft supplies that aren't for Ribbon Blossoms in some boxes under my table - those will have to be sorted out another day. Anyway, I won't bore you with a play-by-play, but I do have some pictures for ya. Because everybody loves some good before and after shots, right?
Now, as you look - keep in mind that my basement is unfinished - no walls. In the background you can still see some of the crap from my other rooms. But they aren't trashed like this room was.
Now I know I need to get some different bins for some of the stuff, as my supplies have outgrown the containers I originally stored them in, and now the lids won't fit. And I also need some shelves. But I'm trying to do everything on a budget and not spend when I don't have to, so I'm just working with what I have for now.
Regardless, getting all this crap sorted out, and being able to walk into my craft dungeon without feeling like I'm maneuvering an obstacle course really does make me feel a lot better than I was for most of the day yesterday! I think I'll find another project to build myself worth up even more. OR....or y'all could click
here
and enter my
awesome giveaway
and that would make me feel great also.
It really is a cool program - and for my friends who already have the program - maybe you could mention it on your blog or FB or Twitter? You know - help spread the word, even though you're not entering the giveaway? K thanks!
I'm linking up with
Shawn
and
Impulsive Addict
- because those chicks are fun to talk to!!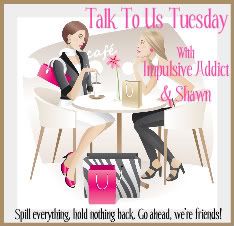 p.s. I made my before and after layouts in the software I'm
giving away
! If you win you will love it!
p.p.s. The plan is to have Cowgirl's room finished shortly - will do some fun before and afters of that also. And then the rest of the basement after that. You better hope we get it done
Myya
- cuz this is gonna be your room this summer!!